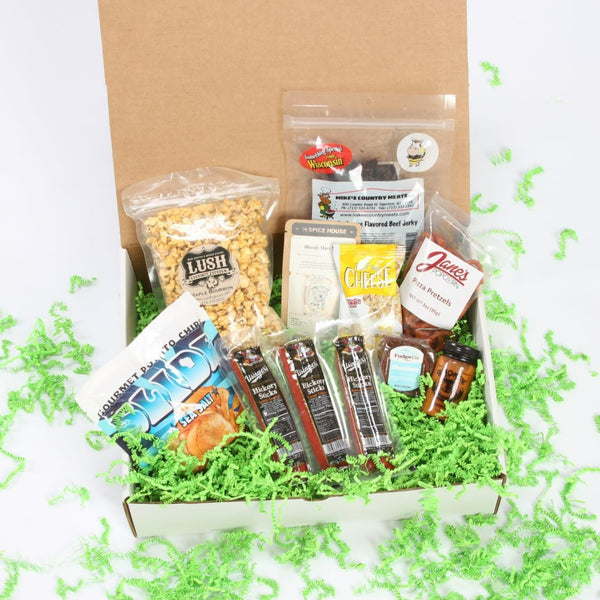 Ultimate Wisconsin Snack Pack
Send a break to colleagues, or delve in and enjoy while watching the biggest games of the year with a curated selection of our favorite Wisconsin snacks. From salty to sweet this selection of Wisconsin-made products will satisfy everyone's snacking desires. 
Gift Box Includes
Pretzels:

 

1, 3 ounce bag of Pizza Pretzels from Jane's Popcorn (West Allis WI)
Hickory Sticks:

 

3 Hickory Sticks from Usinger's Famous Sausages (Milwaukee WI)
Fudge:

 

4 ounces of chocolate fudge from Milwaukee Fudge Company (Milwaukee WI)
Popcorn:

 

6 ounce bag of Maple Bourbon gourmet popcorn from black-owned Lush Popcorn (Milwaukee WI)
Jerky:

 

3 ounce bag of premium Wisconsin beef jerky from Mike's Country Meats (Tigerton WI)
Cheese:

 

1 Pack of White Cheddar Minis from Just The Cheese (Reedsville WI)
Potato Chips: Gourmet Sea Salt Potato Chips from Slide (Madison WI)
BBQ:

 

2 ounces BBQ sauce from Smokin T's Original BBQ Sauce (Dousman WI)

Photos shown are for illustrative purposes. Occasionally products may need to be modified due to supply chain concerns. Thank you for your flexibility and understanding!
I sent the Ultimate Snack Pack to family in New Hampshire and they are enjoying it! The beef jerky is a hit! I will definitely use this company again for future gifts.
What a great idea to share the delicious contents of the Ultimate Wisconsin Snack Pack with family in New Hampshire! We loved featuring so many local foods and are so pleased they enjoyed! Thank you for your purchase. We look forward to bringing more delicious joy to your family and friends next year!