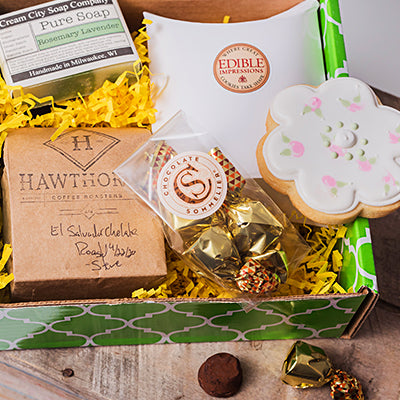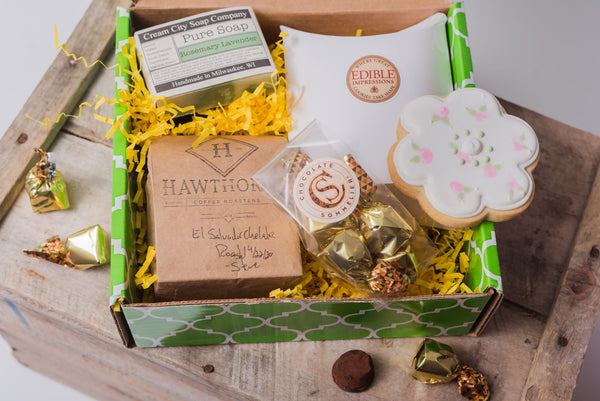 Everyone needs a little self care these days by way of a warm beverage, special treat or aroma therapy experience!  Give the gift of luxury with this pampering kit full of our favorite Wisconsin-made products. This box is the perfect way to support local businesses and give yourself or a friend a much deserved break. 
Gift Box Includes
Indulge a special person such as a mom, aunt, daughter or teacher with a 6-pack of cocoa dusted truffles. The Chocolate Sommelier travels the world to personally taste and hand-select fine chocolates including this item imported from France and made by one of the original French families making truffles since 1931.
Hawthorne Coffee Roasters handcrafts top quality coffees that are unique, including this 1/2 lb of ground coffee included in the care kit.
One, 4 in. x 4 in. sugar cookie topped with vanilla royal icing made especially for your special someone by Edible Impressions
She'll love this hand-made, hand-wrapped Rosemary Mint soap bar from Cream City Soap Company
Relax with a Starter Pack of Urbal Tea (.7 ounces, 3 servings)
Photos shown are for illustrative purposes. Occasionally products may need to be modified due to supply chain concerns. Thank you for your flexibility and understanding!
Great Gift
Gave it as a birthday present and she loved it!
Gifts of Love
Excellent quality and variety of products,
Packed with love, great gift!
We love what we do and we love sharing our favorite treats from around the state! So glad we could be a part of your holiday celebrations.